Law Firm Consulting
Tailored strategic and management consulting services to law firms.
Services
Crisis Response Services to COVID-19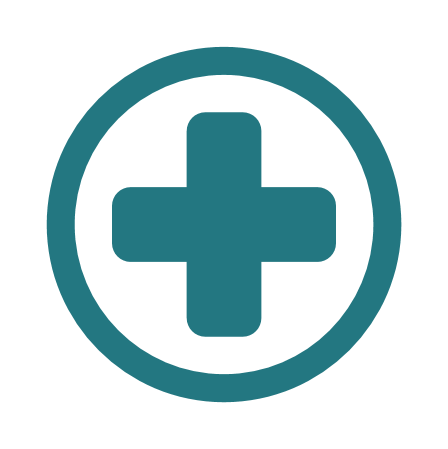 As COVID-19 health and economic uncertainty affect us all profoundly, we are helping our clients to identify and prioritize opportunities, and to understand effective and less-effective alternative responses. Our clients in Italy and New York are further along in this process as firms across the US face these challenges. Through many challenges including the dotcom bust, September 11 and the Great Recession, we have provided extensive modeling and strategy advice to help our clients navigate through and beyond the crisis.
Strategic Positioning / Strategic Planning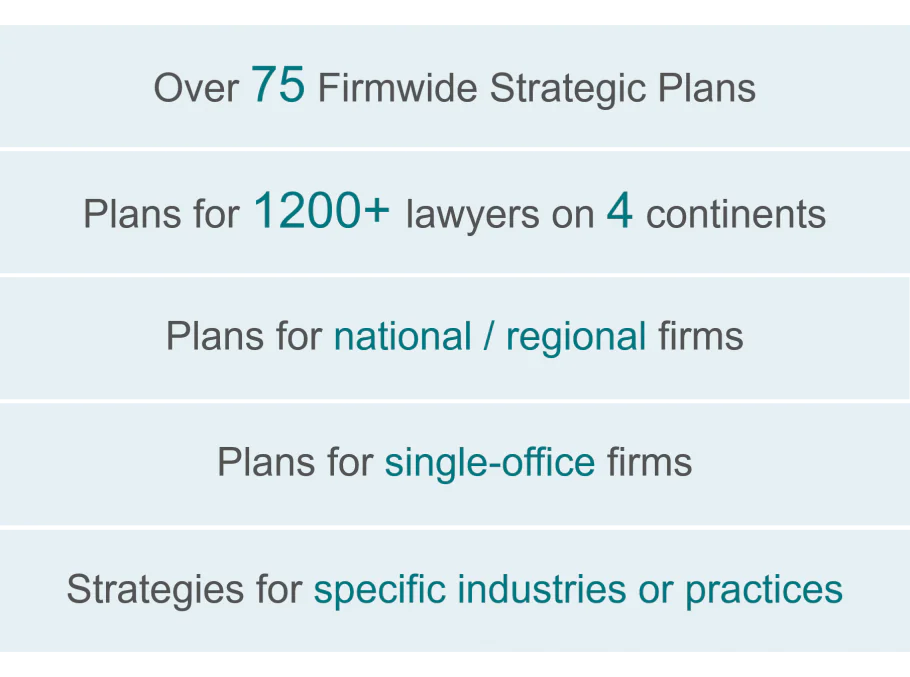 We work with firms to develop or update strategic plans to guide growth priorities, firm shape and scale, geographic reach, practice and industry focus and other dynamics to position the firm over the planning horizon. Our process is driven by mapping firm positions to relevant market data. We recognize that firms are unique in their goals, opportunities and cultures. We structure these assignments to be efficient, while also developing buy-in from the full partnership. Our greatest compliment is being asked five years later to return to guide the next update to the Plan.
Mergers & Acquisitions
200+

Potential Mergers Considered / Terminated
In this era of ongoing consolidations, we bring unbiased wisdom to potential combinations. We are unusual in not charging success fees, and accordingly, often serve as advisors "to the situation". We know how to identify the need and opportunity for a merger, how to examine one without losing control of your firm, and how to sequence the strategic and diligence components to make the best-informed decision while minimizing risk to the firm.
Partner Compensation Systems
80+

Partner Comp Systems Adjusted or Redesigned

200+

Partner Comp Systems Reviewed or Adjusted as Part of a Merger
We have observed every form of partnership compensation system in global, national, regional and boutique firms, with particular understanding of the stresses related to credit attribution, spread and pace of change. Because we watch firms for many years, we have observed both the intended and unintended consequences that can result from changes undertaken. Our advice is practical, grounded in empirical evidence of what matters and is designed to fit your firm's culture and needs, not a graft of other firms' approaches. Beyond our experience with direct compensation system assignments, we have also needed to understand potential merger partners' systems thoroughly.
Leadership Succession / Governance Structures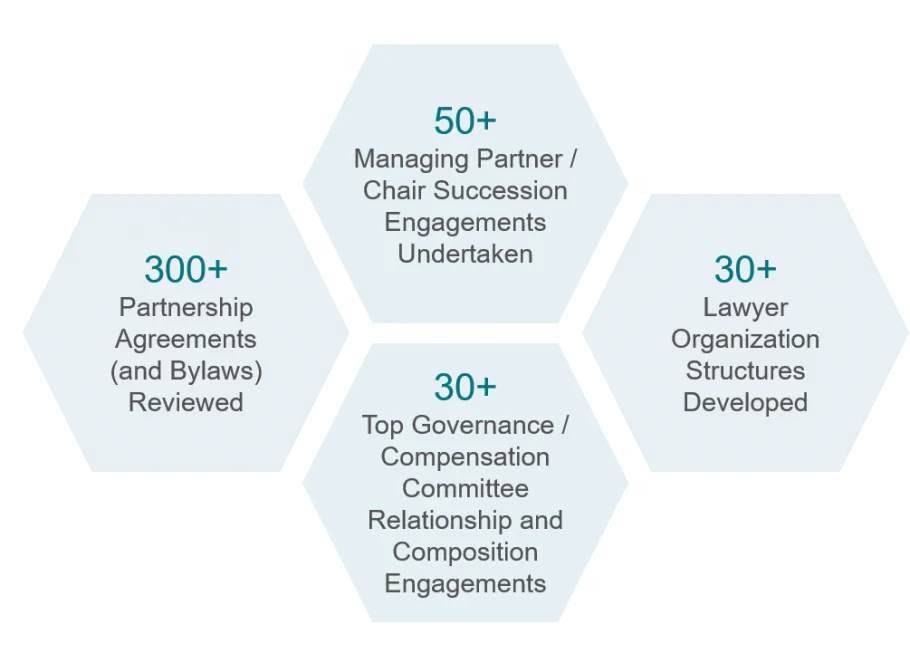 As firms evolve, it can be time to revisit how the top leadership position(s) are selected and how the position is scoped, evaluated and compensated. We have worked with firms of all sizes to design the best means to choose and lead the firm. Similarly, it can be time to review the firm's top governing committee and reevaluate how department heads, practice group leaders, industry leaders and office managing partners all interrelate with firm governance to produce a structure that's efficient, effective and supported by the partners. Most firms are struggling with how best to manage their practice groups and industry teams.
Partner Succession / Client Continuity
25+

Engagements Related to End of Career Partner Transitions

20+

Engagements Related to Client Continuity Management
We see protecting the client base through baby boom retirements as a struggle for many firms. We have worked with dozens of firms on all aspects of client management and partner transitions, from timing to processes, to compensation impacts to help align the firm's and the partner's interests in this difficult area.
Partner Unfunded Retirement Plans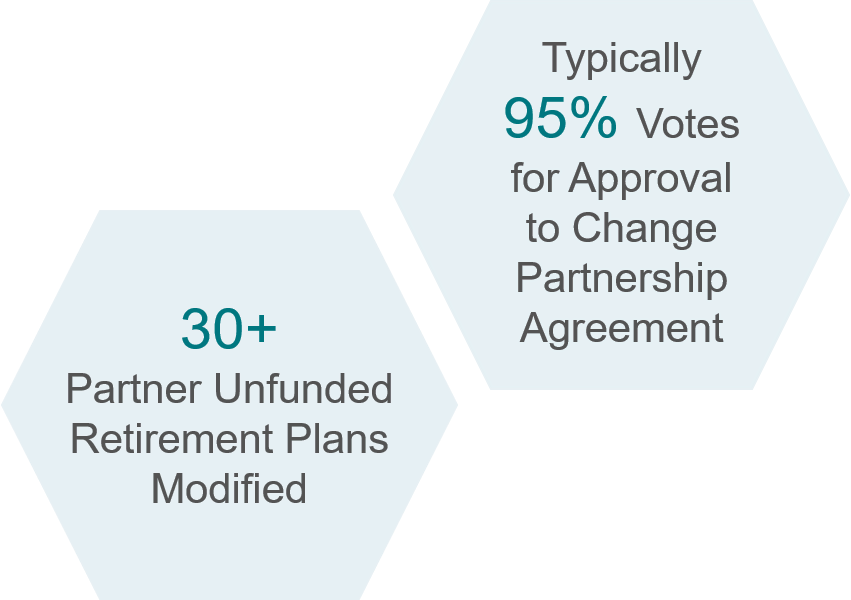 Nearly a quarter of major firms and most first-generation firms have unfunded plans continuing in place for payments to retired partners. We have closed and/or modified plans in firms ranging from those with active founders to large firms with hundreds of partners. The largest unfunded plan we have addressed involved nearly $500M NPV in potential payments to just the known partners. Our goal in these engagements is to provide a transition from the current plan that can generate a strong consensus for change among partners at all stages of their careers.
Partnership Structures and Lawyer Career Paths
100+

Engagements Addressing Firm Shape, Admissions Standards and Processes
Firms call us as they consider how best to manage millennial lawyers, a variety of on- and off-track career paths, all the while finding their mix of equity and non-equity partners not quite right for the future. Our work addresses all of these positions, including admissions standards and processes.
Other Services
Our work is always based on the inquiry from our clients. We stay abreast of issues that would be of concern to the firm chair or an executive committee, and work with many firms on these important projects.
Our Professionals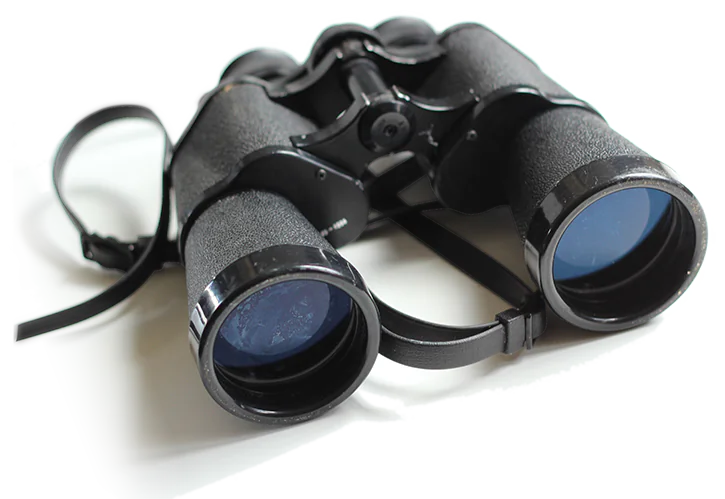 Experienced experts and consultants for challenging problems.